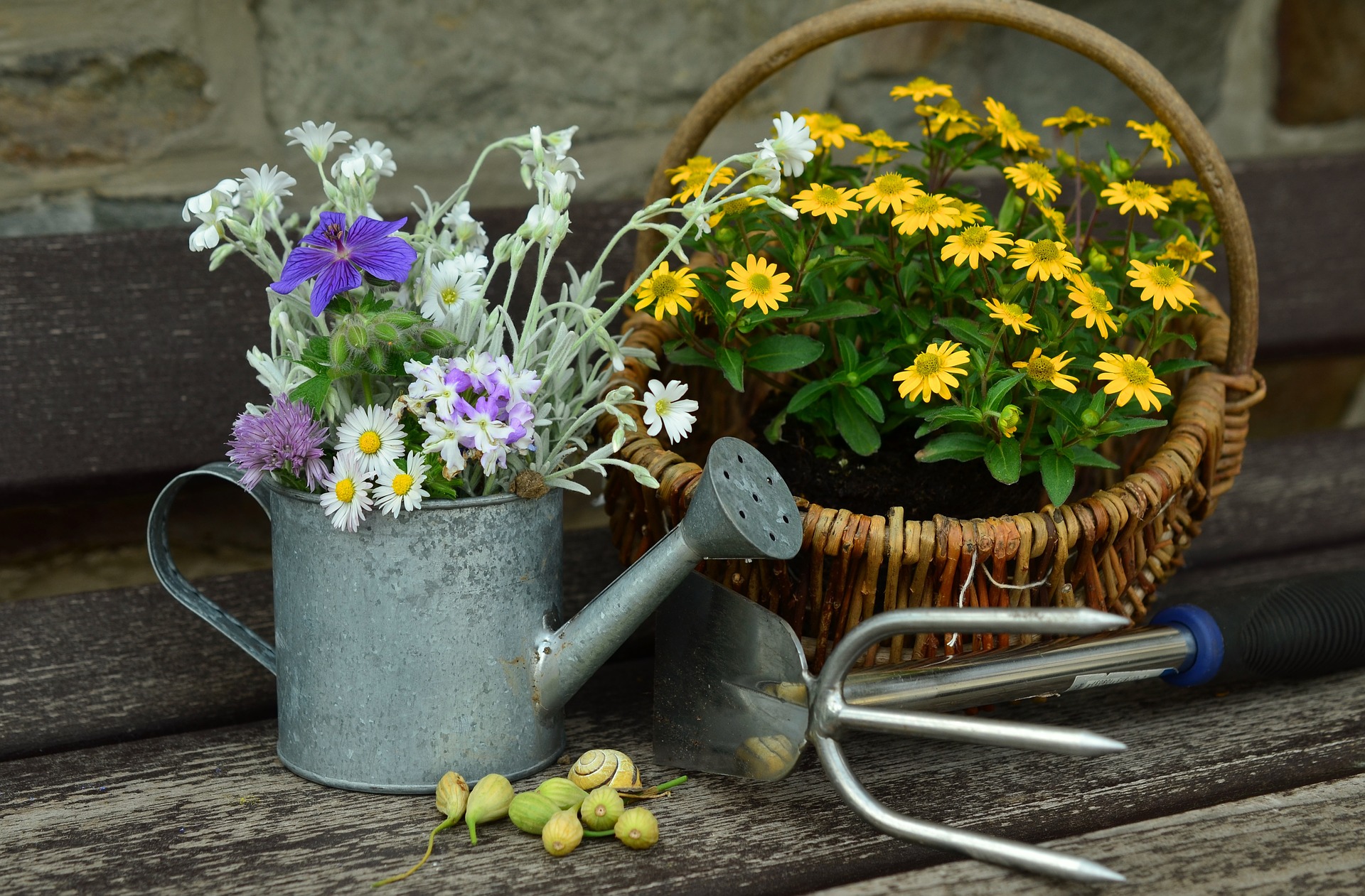 Community
Stratford-upon-Avon in Bloom Schools competition entry and judging process.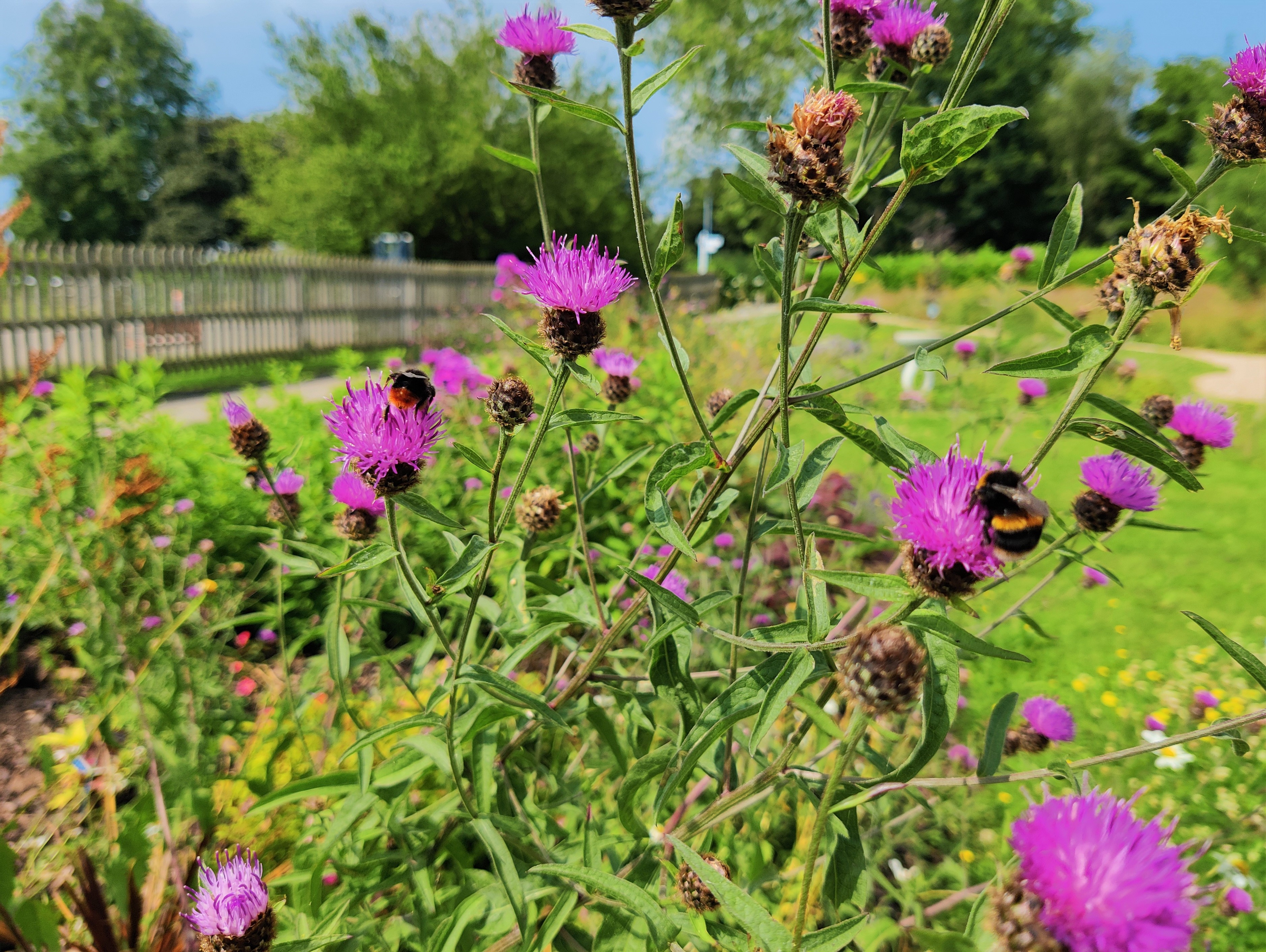 Each spring, Stratford in Bloom contacts all the primary and nursery schools in the town to let them know what our theme is and to invite them to enter our annual schools competition. Previous themes have included: blooms for bees, garden in a wheelbarrow and butterflies.
In 2021, our theme was rewilding and prizes including a selection of wildlife books, identification cards and games were awarded by the Stratford in Bloom committee and local Friends of the Earth group.
Nursery schools: Stratford-upon-Avon in Bloom competition Judging 2021
Clopton Nursery School: A wonderful welcome at the entrance with a happy cheerful display of sunflowers. We moved into a pretty semi-circle of taller plants and edible wild strawberries which clearly attracted the children and the wildlife. A great collection insect hotels to attract a wide variety of species.
Caring Kindergartens: A great use of space and a broad variety of wild species. Some edible plants including wild strawberries which were popular with the children! We saw lots of butterflies on our visit and great enthusiasm.
Broad Street Cygnets: This site welcomed us with brightly coloured wellington boots in an attractive display before we reached a fairly small planting area. They had grown their beans up the supporting structure with insect friendly lavender in front. The centre piece was a delightful up cycled dolls house where each room had been designed for different insects to live in . A brilliant idea everyone could do.
Primary Schools:
The enthusiasm and joy we saw in all the pupils and teachers was a delight. A big thank you goes to all those who were involved and enthused those around them. We are sure both the environment and the pupils will have benefitted from embracing the Wilding theme.
Thomas Jolyffe School: A great statement entrance, unexpected but using a large space to combine some conventional planting but lots of varying height grasses and plants. Lots of clever features have been designed in, including an outside classroom and extra wild areas. A good explanatory information board at the entrance was very helpful. Visitors to the school have a delightful walk through this substantial entrance.
Alveston Primary School: The school has embraced re-wilding in all areas. It has used big and quite small areas to facilitate wildlife, e.g. even the small strip by the bicycle racks. Each school classroom had a selection of edible and colourful plants in its designated play area. The upper school area was beautifully decorated with bright pictures. They even sang us a song. The school is also lucky to have a large area given over to a forest school which was a hive of activity for both pupils and wildlife.
Bridgetown primary School: The whole school has embraced the theme of wilding and the collaboration between staff, pupils and ground staff was very obvious. The variation in the heights of grass levels to attract different insects on the edges of the play areas and the school boundaries. A lovely quiet area has been created with seating and vegetable plants using lots of imagination. The development of the extension of Forest school is exciting and will be great to see how it develops. Lots of new areas have been developed from almost nothing.
Enter your content here...
Commemorative Pledge Plaques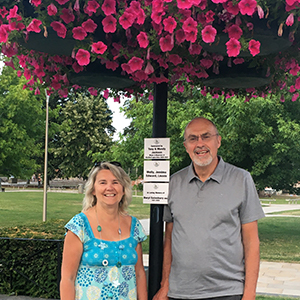 As covid 19 inevitably put a stop to almost all our usual fund-raising activities this year, we decided to follow the lead of Alcester in Bloom, who have been raising money for many years by inviting members of the public to sponsor memorial plaques for their hanging baskets. Twenty generous donations were received, and the plaques, with their sponsors' chosen dedications, now decorate our spectacular hanging baskets on Waterside. Dedications range from memorials for lost loved ones to celebrations of happy events, and we have also included a special plaque in memory of all the victims of covid.
So many of us have suffered bereavements during the pandemic, which have frequently been all the sadder because it has not been possible to hold the sort of funerals and memorial services that we would otherwise have wanted for our loved ones. Dedicating a plaque has often provided some consolation in these sad circumstances. Four plaques, sponsored by friends from England, Italy and Australia, commemorate the much-loved Shipston GP, Dr Sue Pritchard, who died of cancer earlier this year, and our Stratford-upon-Avon in Bloom Chairman, Charles Bates, has sponsored a plaque in memory of his beloved wife, former Stratford-upon-Avon Mayor Tessa Bates, who died last summer.
Others have chosen to celebrate special occasions, families, and family members. Former Stratford-upon-Avon Mayor Tony Jackson and his wife Mandy are pictured here next to their plaque, and another of our sponsors, Stratford resident Mairi Macdonald, says "2020 made me realise the importance of flowers in our daily lives, and the benefit the work of Stratford in Bloom brings to the town both visually and psychologically. When I learnt that extra funding would be needed this year in the absence of fund-raising events, I was more than happy to contribute by sponsoring a plaque. I dedicated it to the members of my family at home and abroad who love the town."
Friends Of Stratford Station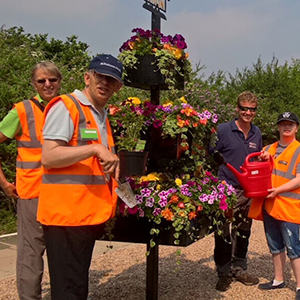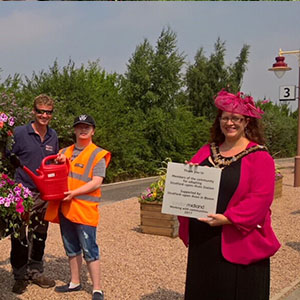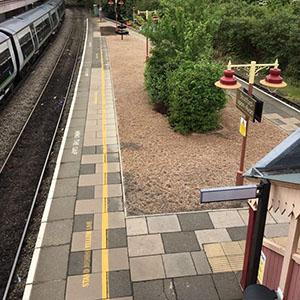 I have always had an ambition to make our station garden as cared for as the Victorian Station Masters seemed to care for their station gardens in the railways hey-day.
I had thought about our platform so often and spoke to several railway enthusiasts in Stratford, but it never quite happened.
The idea came into focus when Brenda Lawrence, London Midland, came to the Town Council in 2016 to talk about plans to upgrade the station buildings. I was a Town Council Representative on the Stratford-in-Bloom Committee, and they were looking for a community project to support. Hey Presto!
I put out a plea on social media for volunteers for FOSS, Friends of Stratford Station, and 4 residents stepped up and we met to lay plans. Avon Services were signed up straight away and they were magnificent. The guys took on watering the planters throughout the first two Summers even though that meant carrying watering cans over the bridge.
So much to do to get going: -
Become an 'adopter', which involved registering the group with LM and safety training
Join ACoRP – Association of Community Rail Partnerships – the organization for all community groups with railway related schemes.
Look for independent sponsorship / funding
Warwickshire County Council gave help and advice.
The first practical thing to do was to remove the massive cypress trees from the platform garden. London Midland were just fantastic and sent a team to fell and grub up the overgrown trees, cut up old concrete blocks and lay a weed barrier and re gravel the platform.
Next Blenheim Nurseries provided three planters and planted them up. Rosconn were generous in offering sponsorship and Tesco gave bulbs. We were on our way, and all went well for two years. Then came Covid 19 and everything came to a shuddering standstill. We are just getting started again.
The local Rail Passenger Group, known as the Shakespeare Line Promotion Group then stepped forward which led to its Secretary, Fraser Pithie forming the Friends of the Shakespeare Line Community Station Partnership and working miracles by getting all stations between Stratford and Birmingham adopted by volunteers and sponsorship for the whole route from Earlswood Garden and Landscape Centre who have provided 3 more planters for Stratford upon Avon. Forest of Hearts have come on board with help, peat free compost and homegrown plants, all insect friendly.
None of this could have happened without the huge support from the new franchise, West Midlands through the fantastic Dorridge / Stratford Line Manager Ian Taylor supported Fay Easton Head of Stakeholder & Community for West Midlands Railway.
Our latest effort has been to clear the sand box on platform 2 to make a large tree planter for the cherry tree. Jon Knight, a great new volunteer, brought his axe and mattock and beavered away for several days to slowly chip out a mass of roots from the cypress tree removed from here earlier this year. A truly massive job.
None of this would have happened without the fantastic support and enthusiasm from all concerned with the project. Great hopes and plans for next year.
Stratford Wild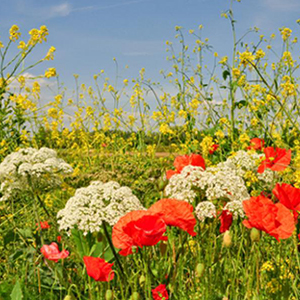 Stratford Town Council agreed a Climate Emergency Motion last year and set up a group to see what could be done to reduce the carbon footprint and enhance biodiversity of the town.
It is apparent that there are many residents in the area who would like to grow wild flowers, and have an abundance of environmental ideas. There are also community groups that may be a little more ambitious, but are unsure of where to start.
The Town Council therefore thought it would be helpful to set up a group, where people can share their ideas, experiences and offer advice. The group has been set up on WhatsApp and is called Stratford Goes Wild.
Rewilding connects people back with nature. It provides many benefits giving people a sense of time and seasonal change.
If you are interested in joining this group of people with shared interests and can chat, seek advice and share your ideas, plus benefit from others experience, please contact Cohl Warren-Howles at Cohl.Warren-Howles@stratford-tc.gov.uk.
Riverside Project Updates
Allotments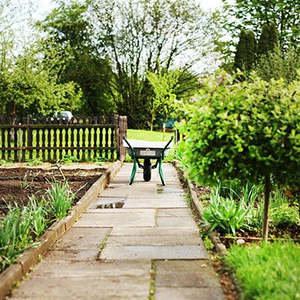 There are three main allotment sites in Stratford, at Alveston and Tiddington. These plots provide important growing space for residents and contribute to the network of green spaces throughout the town. Prior to scaling back of our local competition due to the pandemic, our judging team visited the allotment sites each summer - something we hope to resume in the future. For more information about Stratford's allotments, visit:
1) Alveston and Tiddington Allotments and Gardens Association website.
2) Church Lane Allotments contact: Town Trust enquiries call 01789 207111 or email: facilities@stratfordtowntrust.co.uk
3) Stratford-upon-Avon Town Council, email charles.wilson@stratford-tc.gov.uk or telephone 01789 26933.